You've probably heard of Hans Christian Andersen's "Little Match Girl" [full text]. But don't confuse that touching fictional character with my "Little Mattress Girl," a live person of quite a different order.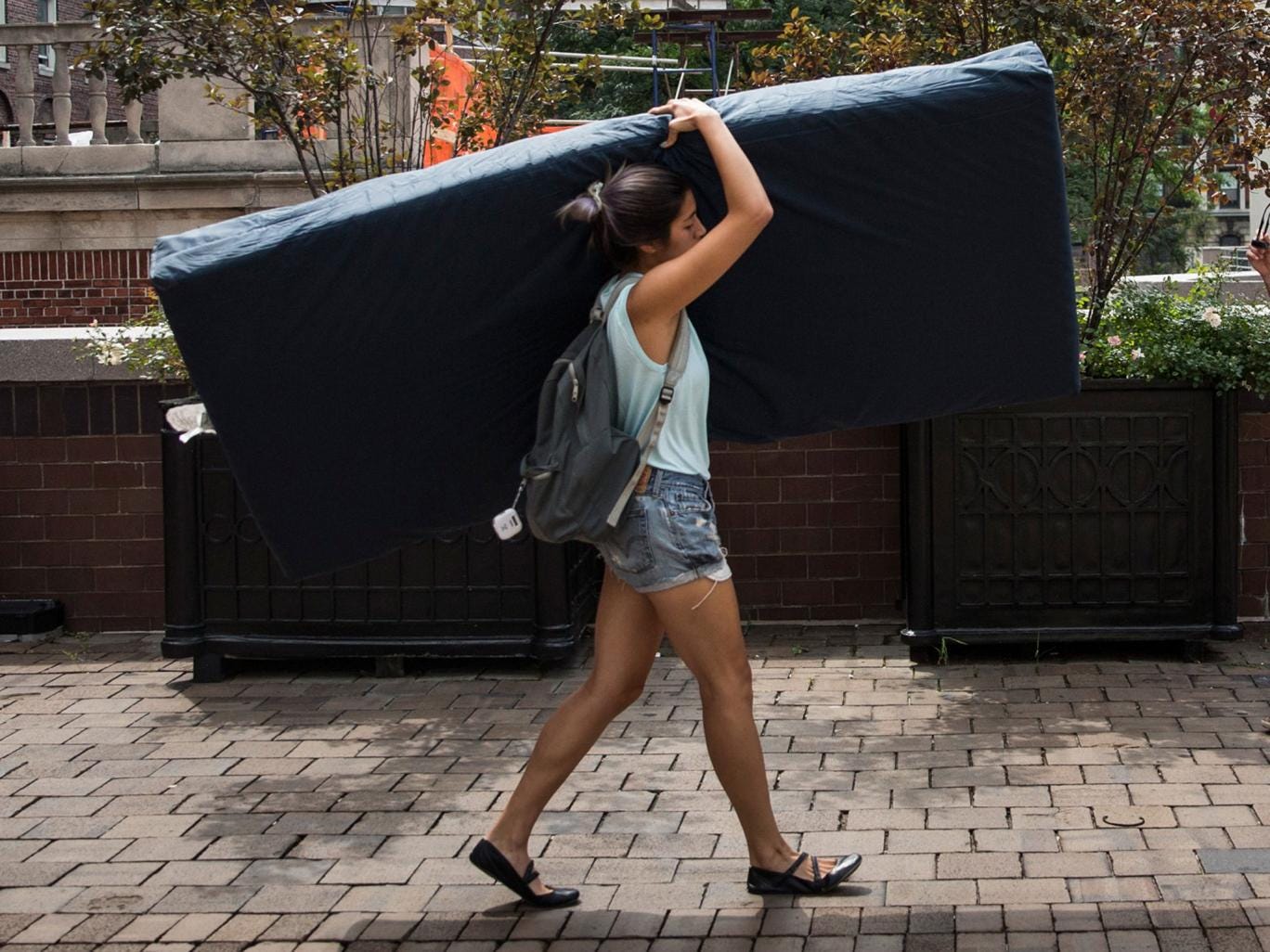 She is Emma Sulkowicz, the former Columbia University student of visual arts who gained national notoriety in 2014–15 for an "endurance performance" piece in which she lugged a 50-lb. dormitory mattress around campus as her senior thesis project, announcing that she would end it only when the fellow student she charged had raped her in her dorm room left Columbia or was expelled. Since he remained on campus (having been cleared of all charges by the university), Sulkowicz ultimately carried the mattress to her graduation in cap and gown last May, assisted by smiling classmates.
What has reminded me of the Little Mattress Girl now? An email announcement from Coagula Curatorial—a Los Angeles "art" gallery—announcing Sulkowicz's first solo show. The exhibit, entitled Self-Portrait, will be "a live investigation of identity as performance" that "pushes the limits and meaning of the self-portrait as a contemporary concept." As background, the gallery quotes the Wikipedia entry describing Sulkowicz's claim to fame, her senior thesis project Mattress Performance (Carry That Weight).
Not surprisingly, Coagula fails to mention the overwhelming probability that the "artist's" allegation of rape was a bald-faced lie, and that the real victim in the case is her alleged rapist, Paul Nungesser. Quite understandably, Nungesser is suing the university for "condoning a hostile educational environment" for him by "knowingly permitting and apparently approving" of Sulkowicz's performance piece—which continued to sully his name and character after all the charges against him had been dropped. Columbia has entered a motion to dismiss the case; Nungesser's attorneys will of course object. The outcome has yet to be determined.
In response to the suit, Columbia's lawyers have argued that allowing Sulkowicz's piece was dictated by principles of academic freedom. "This is especially true here," they added, "where Ms. Sulkowicz was a visual arts major and inherently subjective judgments of aesthetic value were at issue."
"Subjective judgments of aesthetic value"? How about objective judgments of what constitutes a work of "art"? In that connection, I would point out, no less a thinker than Aristotle made clear that all "art" involves human skill informed by knowledge and applied to a given task or object. What skill would the Columbia lawyers say is involved in lugging a mattress? And are they aware that the bogus category of "performance art" practiced by Ms. Sulkowicz was invented as an avowedly "anti-art" genre that deliberately dispenses with "aesthetic" considerations?1
The $64 Dollar Question
The foregoing considerations raise a question the university has yet to answer:
How can a student earn senior thesis credit toward a degree in "visual arts" for a project consisting of toting a mattress around campus?
If any skill is involved, it lies in Sulkowicz's canny manipulation of the media and the artworld. In that case, her degree should be in marketing, not visual arts.
University officials would no doubt argue that the project was a valid one, since it was approved by Sulkowicz's advisor, a Professor of Visual Arts. That professor was Jon Kessler, an "artist" known for his "kinetic sculptures."2
An interesting footnote to this fiasco is the fact that Sulkowicz's parents are both psychiatrists. Her father, Kerry Sulkowicz, has been characterized by Psychiatric Times as "one of the most sought after psychoanalysts in the world"; the firm he founded advises the corporate world on the psychology of leadership. If Dr. Sulkowicz has any sense, he should sue Columbia for awarding his daughter a fraudulent degree in "visual arts" at a cost of more than $200,000, and for having indoctrinated her into the psychologically destabilizing world of spurious "contemporary art."3
To do that, however, Dr. Sulkowicz would have to trust his own common sense, in defiance of the entire art establishment—a highly unlikely event for a sophisticated New Yorker traveling in the best circles. The corporate executives he advises on leadership psychology might very well collect such "contemporary art." (Here we should recall that other Andersen tale, "The Emperor's New Clothes" [full text].)
Onward and Upward in Today's Artworld
In any case, daughter Emma appears to be moving right along in her career as an "artist." While still an undergraduate, she was lauded by prominent art critics for her mattress piece. And at the tender age of 23, she is about to have her first solo show, in which she will exhibit two new works. In the first piece—a "durational performance" entitled Self-Portrait (Performance with Object)—she will be on a platform in the gallery, and visitors will be invited to interact with her. The gallery instructs:
They can speak with her about anything. However, questions that objectify or fetishize her [should] be addressed to Emmatron. Emmatron is a life-sized ultra-realistic replica of Sulkowicz. On another set of sculptural platforms, viewers can interact with Emmatron through an app, which is programmed to enable the replica to answer a series of pre-set questions that the artist is no longer willing to answer.

Also in the show is In-Action Figure: a 3D-printed replica of Sulkowicz (edition of 20). Inspired by Sulkowicz's experience with the media, In-Action Figure reflects the widespread commodification and flattening of her image in the news and on the internet.
My guess is that Sulkowicz has a bright career ahead in today's artworld—thanks to the critics, dealers, curators, and journalists who legitimize such imbecilities by taking them seriously. The most ironically laughable aspect of her upcoming show is that the Coagula Gallery bills itself as a "a premiere exhibition space of contemporary art" founded by "acclaimed editor, art critic and curator" Mat Gleason as an offshoot of his brainchild, the Coagula Art Journal—which purportedly offers "a no-holds [sic] critique of contemporary art and the art world." Some critique. Perhaps the omission of "barred" unwittingly reveals more than just sloppy writing.4
[POSTSCRIPT:] Kate Taylor, Columbia Settles With Student Cast as a Rapist in Mattress Art Project, New York Times, July 14, 2017. Note especially the remarks by Janet Halley, a professor at Harvard Law School, arguing that Columbia had erred in not having distanced itself from Sulkowicz's project and in allowing her to carry the mattress at graduation—both of which contributed to Nungesser's harassment and ostracism.